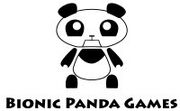 Bionic Panda Games is a cross-platform mobile social games company based in San Francisco, California. They were founded in March of 2010 and released their first game, Aqua Pets, in February of 2011.
Aqua Pets (2011)
PicAPic Camera (2012)
Vacation Slots (2012)
Ad blocker interference detected!
Wikia is a free-to-use site that makes money from advertising. We have a modified experience for viewers using ad blockers

Wikia is not accessible if you've made further modifications. Remove the custom ad blocker rule(s) and the page will load as expected.