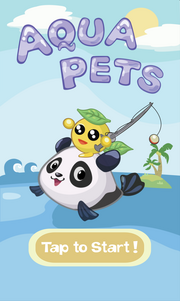 Aqua Pets is a mobile device game produced by Bionic Panda Games. The company was started by Charles Hudson and Mike Jimenez along with their staff of 10 other employees.
The lead artist for the game was Chao-wen "Gina" Chen, up until the October 28th, 2013 update. At that point, new fish were introduced to the game and their visual style was drastically different from everything else that had preceded them. The identity of the current artist is unknown.
It is available on the Google Play Store for Android platform phones and tablets, on the iTunes App Store for iPhones and iPads, or on the Amazon App Store for Kindles (see main page for download links). Although Aqua Pets is free to download and play, additional in-game currency can be purchased using real money.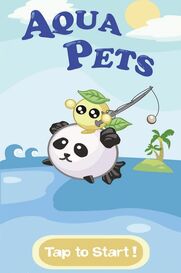 The game offers a variety of activities:
Decorate your aquarium or fish tank with different Backgrounds
Stock your aquarium or fish tank with various * Feed your fish using Fish Food to make them happy and collect rewards
Network with friends so you can see their tanks, as well as send and receive free Gifts
Earn Achievements by accomplishing various goals in the game
Post pictures of your fish tank to social media sites such as Facebook and Twitter
Known Bugs/Issues
Edit
 In both Aqua Pets Christmas & Aqua Pets- the game is known to force close multiple times, updates have not fixed this problem.
Once the player reaches a high enough level in the game, they cannot recieve gifts from other players and must re-load a previous version of the game in order to recieve them again.
Recently players have not been able to catch the following newly added fish: Dream Mermaid, Fantail Gold Fish, Frozen Ribbon Fish, Yellow Longnose Butterflyfish, & the Yellow Sting Ray, in both versions of the game.
Consistantly the pearl amount among items changes to 0.
Some players tanks will show boxes around where fish swim, this bug seems to affect only a select few.
There is currently no way to recieve older gifts in the game.
When clicking the gift icon, entire friend lists sometimes won't appear, the player must click the friends icon then click gifts in order for them to show up.
In the Christmas version of Aqua Pets, the game will sometimes mute players.
Randomly, the game will reset players to level 0, this bug has not been fixed in the game.
Sometimes an error appears in the background of the players tank: 6843921STO RAGEHMWLP. This is the coding number for the background.
Tips & Tricks
Edit
 When sending Blue Glowing Pellets make sure to send an automatic thank you, players claim to sometimes recieve up to three gifts.
If players do not want to buy expensive glowing pellets, they have the option to spend coins on Spotted Worms, as every cast with a full bar of luck increases chances of landing a rare fish. The Giant Spoon has the highest chances for rare fish using only worms.
If the player adds more friends to their list, they can visit friends tanks each day, and click on a chest in them to earn up to 10 coins per tank. This can sometimes amount to 700 coins a day, if the player has over 100+ friends added.
The easiest way to get more pearls without paying is to click the pearls icon at the top of the screen then click on "get free pearls," this will bring up other free trial games to download. It is recommened that the player play games that say, "download and run this app." Running all apps only once, then open up the Aqua Pets game to claim the reward. It is also recommenedplayers delete all downloaded games after completing them as they might take up lots of unecessary space.
Look at the achievement list and try to fish with rods that might give you pearl rewards for a type of fish.
Only certain themed fish can be caught with particular rods.
If you're having a hard time catching any kind of uncommon or rare fish, switch to a new rod every time you cast 10 times.
Game Icons
Edit
December 21, 2013
Edit
New game called, "Aqua Pets Christmas" version 0.0.02 is introduced featuring the game with a christmas themed update, applied to the entire game. 
November 27, 2013
Edit
Sale on various items on Thanksgiving.
New Collections feature added.
New Bait added (with higher rates for Legendary Fish and Rare Fish):
New Rods added to help complete the collection:
5 new fish added:
Tank storage increased to 50.
November 4, 2013
Edit
Catching same fish bug fixed.
October 28, 2013
Edit
10 new fish added:
Minor bug fixing.